Activation Key
To use Plagius, even to test it, it is necessary to obtain an activation key and inform it within the program.
There are two types of Plagius activation key: the full version key and the demo version key.
The full version allows unrestricted analysis regarding the number of pages analyzed and/or file size, and the demo version is intended to allow evaluation of the program, showing the user how Plagius works.
How to get a full version key
To use Plagius with all its functionalities it is necessary to acquire a license. Purchase must be made through this link.
After purchase, the key will be sent automatically by email.
How to get a demo version key
To test the program, you can get a free demo key.
The demo version of Plagius will allow the complete execution of the analysis, in order to evaluate the program's functioning, but only some information will be displayed in the result.
Open Plagius and click on the "Options Menu" button.
Then choose the option "Activate full version..."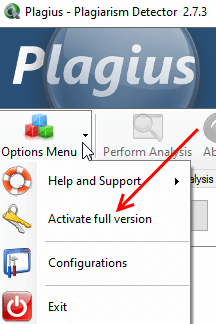 Then paste your activation key and click "Activate"